Welcome to Skate Muskoka!
PreCan & CanSkate
Skate Muskoka is proud to announce that we have achieved an "Exceeded Standard" rating by Skate Ontario for our PreCan & Canskate Programs.

The CanSkate program incorporates fun with the basics of skating forwards and backwards, stopping, turning, jumping, spinning, and edges. The program consists of 6 Stages taught in order of difficulty to ensure a natural skills progression.
CanSkate is Skate Canada's flagship learn-to-skate program, designed for beginners of all ages. When you sign up for CanSkate you will be in a program that focuses on fun, participation and basic skill development. You will earn badges and ribbons as you learn fundamental skating skills.
Lessons are given in a group format and led by a certified professional coach. Professional coaches are assisted by trained Program Assistants. The coach to student ratio is a maximum of 1:10. Skaters progress at their own rate and coaches make sessions active using teaching aids, music and a wide variety of activities that create a fun environment and promote learning. CanSkate is the feeder program to all other Skate Canada Skating Programs, and is presented by BMO Financial Group, reflecting their commitment to grassroots development.
Rising Stars
The Rising Stars Program is intended as an introduction to figure skating. The program is a bridge program between Canskate and Starskate and is designed for skaters who want to learn figure skating skills.
The Rising Stars program combines a fun and enthusiastic atmosphere to learn the basic skills of figure skating at a young age. Skaters in this program will also have the opportunity to showcase their skills in their own carnival routine at the end of the season.
*Skaters must be registered for at least 1 Canskate session and must have completed Canskate Stage 3. Wearing figure skates and a CSA approved helmet are mandatory.
StarSkate
The Skate Canada STARskate & Competitive Programs provide opportunities for skaters to compete in a variety of competitions from the local to the national and international level. Skaters can compete in singles, pairs, interpretive and dance from Star 1 to Adult levels.
STARskaters work through testing disciplines from Star 1 to Gold levels. They may compete in local, regional, sectional, provincial and national levels. Adult competitions include national and international invitational meets.
Skaters who exhibit aptitude for competitive skating may test in the competitive disciplines of Juvenile to Senior and may advance from club competition to sectional, divisional and national championships and beyond.
Our Sessions:
Junior StarSkate sessions are recommended for skaters who have completed Canskate Stage 6. These sessions will include up to 75% coaching within the session, leaving a short amount of time for private lessons at the end of each session.
Intermediate StarSkate sessions are recommended for skaters who have passed two Star 3 tests. Skaters will receive up to 50% of coaching on a session with time for individual practice and private lessons.

Senior StarSkate sessions are recommended for skaters who have passed two Star 5 tests. Sessions include up to 30% coaching within the session, leaving the majority of the time for skaters to practice their programs, individual elements, and work privately with a coach.
Open Ice sessions are for skaters registered in Intermediate and Senior StarSkate. There is no club lesson time on open ice. All lessons must be arranged privately with a coach.
* changes may be made at the discretion of the coaching staff to ensure safety to all skaters on a session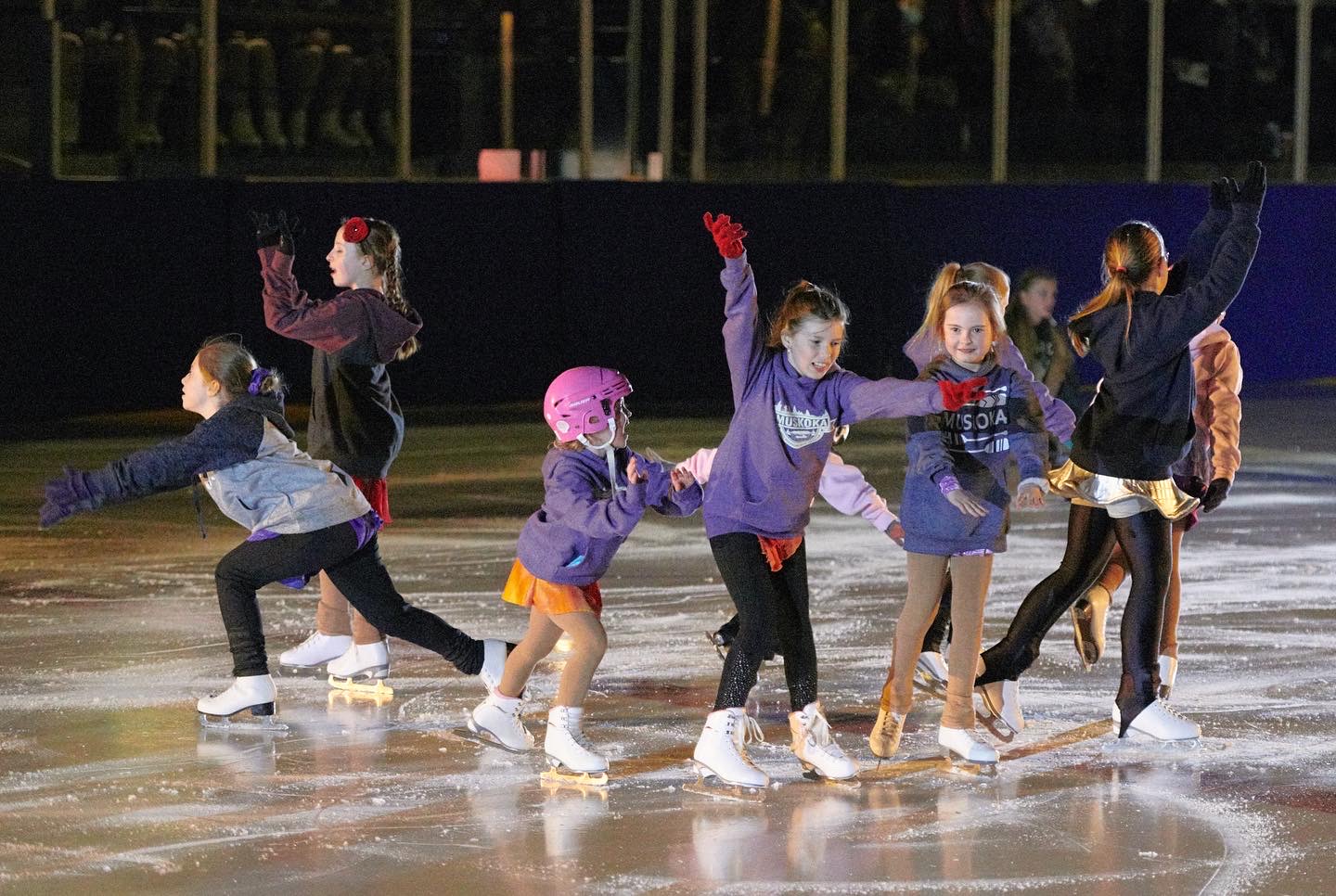 Theatre on Ice
Theater on ice is a fun, artistic expression program that encourages skaters to explore their creativity, performance and acting. It is a program which requires a team effort, where everyone works together to achieve goals.
Skaters are introduced to showcase and synchronized skating elements. Skaters will be encouraged to learn visually spectacular figure skating moves and work with props.
Group and individual showcase routines will be created with the goal of taking these programs to competitions. All competition coaching fees are included in the registration cost.
*Theatre on Ice is open to all STARSkaters from Star 1-Gold